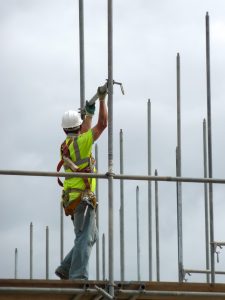 Construction sites are a big emphasis for the Occupational Health and Safety Administration (OSHA). According to their website, construction is among the most dangerous industries in the country and construction inspections comprise 60% of OSHA's total inspections.
The four leading causes of construction industry fatalities are called the "OSHA Focus Four." This includes the following hazards:
Struck By
Falls
Electrocution
Caught-in-Between
This is the second installment in our blog series addressing each of these. We will offer tips to help reduce unsafe conditions and increase education to promote employees recognition of those hazards.
Falls:
Fall hazards are on every worksite and pose a threat to your work crews' safety. Fall hazards come in many different forms, from materials and debris in a walkway or a member of your team tethered to the side of a 6 story building. Each pose a risk and both are scenarios in which your team members can avoid injury.
According to OSHA, falls from heights are the leading cause of fatalities in construction, while slips and trips are one of the leading causes of injuries. Here are a few tips and reminders for keeping your work crews safe on the jobsite.
Recognizing hazards:
Unprotected roof or floor edges
Poorly constructed scaffolding
Unsafe ladders
When using scaffolding or ladders make sure you aren't cutting corners and are using the right tools for the right job. Improper construction of scaffolding, not having guardrails in place, or climbing the cross-bracing is certainly asking for trouble. It is all too easy for your team members to misstep or slip from unsteady equipment.
Keep your work areas clear:
Making sure your walkways and high traffic areas are free from building materials, debris or tools will keep your employees from slipping or tripping. Make sure your team is recognizing issues and are making an effort to keep areas clean and not cluttered. A culture of safety starts with your employees knowing, recognizing, and removing hazards before accidents happen.
Ensure your team is thoroughly trained on using different types of equipment, on corporate policies on safety, and is working to maintain your safety culture. Paying attention to fall protection and prevention will keep your employees and co-workers injury-free.
Source: https://www.osha.gov/dte/outreach/construction/focus_four/falls/falls_ig.pdf