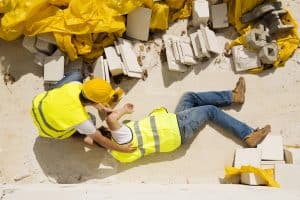 Construction sites are a big emphasis for the Occupational Health and Safety Administration (OSHA). According to their website, construction is among the most dangerous industries in the country and construction inspections comprise 60% of OSHA's total inspections.
The four leading causes of construction industry fatalities are called the "OSHA Focus Four." This includes the following hazards:
Struck By
Electrocution
Caught-in-Between
Fall
This is the first installment in our blog series addressing each of these. We will offer tips to help reduce unsafe conditions and increase education to promote employees recognition of those hazards.
Struck By:
There are many opportunities for injuries caused by being struck by things such as: a piece of material, equipment, or machinery. The first defense is being visible and wearing personal protective equipment (PPE). When working on a job site, ALL of our employees MUST have in place: high visibility clothing, hard hats, safety glasses, gloves, and if on an elevated surface – safety harnesses. Here are some additional tips outside of wearing PPE:
Flying/falling Objects can Literally Come from Anywhere. Be Aware of:

debris falling from elevated height
compression blast
swinging objects
unsecured walls collapsing

Keep work areas clean – especially elevated areas. Having crews working above others posing a risk for falling debris, materials or tools.

tether tools or equipment to keep from falling
ensure employees working on the ground are aware of those above them and stay out from under lifts, scaffold or other elevated work areas
make sure canopies are in place under scaffold
stack and secure any materials to prevent sliding or falling
secure walls or materials from wind gusts

Utilizing Heavy Equipment:

If operating heavy equipment, use a helper or spotter who can act as your eyes along the blind spots of your vehicle.
Ensure you have enough room to maneuver your equipment. Use your horn or alert those around you, you are about to move and allow others time to move out of your path.
Calculate your swing radius – i.e.: if you are driving a forklift, they traditionally need more room behind them when making a turn
NEVER leave the machine unattended when the keys are in the ignition and NEVER let an untrained/unauthorized employee to operate the machine.
Stay clear of any lifted or suspended loads and be aware of unbalanced loads
Lower blocks, blades or buckets when not in use

Talk! And Be Heard:

When working onsite, never play music or listen to headphones
Don't be afraid to yell before moving heavy equipment
Use horns, beepers, and sirens when moving equipment or lifting material
When employees around you are wearing hearing protection or are using loud machines, make sure they give you a signal before you move machinery, materials, or equipment near them
Don't assume they see you – make sure others see you
Keeping safety top-of-mind with your team will help keep safety hazards and unsafe conditions from your worksites. Keep your employees educated on hazards and encourage them to maintain their worksites to keep themselves and their co-workers from injury.

Source: OSHA Training Institute "Construction Focus Four: Struck-By Hazards Instructors Guide"
http://www.clicksafety.com/courses/detail/introduction-to-osha-fatal-four-hazards-(osha-focus-four)#