Our "Restore You" Health & Wellness team decided to repurpose a wooden crate and make it into a raised company garden. It was constructed by our warehouse personnel and set up in the storage lot, near the rear exit of our building.
The Wellness Committee kept it a secret from employees, so they could introduce the Wellness Garden with the first fresh pick of the season. The first day of planting was June 21. Twenty two days later, we had radishes ready!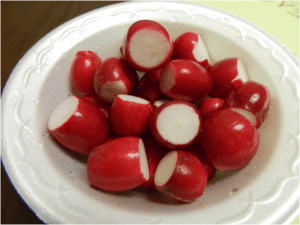 The garden has four types of pepper plants, two tomato plants, four rows of green beans, four rows of radishes, four rows of beets, two sweet potato plants, and a carrot patch, followed up with two cucumber vines. All employees have access to the garden, and the idea is to promote a collective effort to have fresh food available for all to enjoy! What a fantastic way to provide fresh, healthy snacks at work.