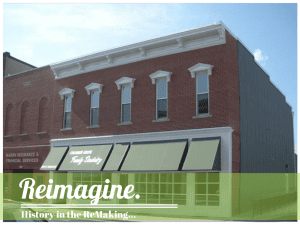 Choosing the appropriate treatment for your building is critical, and there are differences in the types of projects you are performing. So which should you choose? When choosing your treatment choice, you should think about a couple different factors: intended usage, the building's condition, and it's historical significance.
Rehabilitation acknowledges the need to alter or add-to a historical property to meet continuing or changing uses while retaining the property's historic character.
Restoration depicts a property at a particular period of time in its history, while removing evidence of other periods.
Reconstruction re-creates vanished or non-surviving portions of a property for interpretive purposes.
Preservation focuses on the maintenance and repair of existing historic materials and retention of a property's form as it has evolved over time.
The National Park Service offers guidelines to follow when making modifications to your building.
What is the buildings relative historical importance?
Buildings with a significant historical relevance listed on the National Register often warrant Preservation or Restoration. Those not listed on the Register frequently undergo Rehabilitation for a new use.
What is the current condition of the building?
If the alterations are important to preserving the building's history, Preservation may be appropriate. Preservation will retain the architectural materials, features, spaces and will convey the building's rich history. If you are making significant changes or alterations and there is extensive damage and wear to the materials Rehabilitation is more than likely the proper treatment for your building.
Mandated code requirements
Regardless of which treatment you choose there are several code requirements to be considered. You can check out guidelines for your project with this great guide!
Ensuring you are choosing the proper treatments for your project will dictate the success of your building's renovation. If you would like to learn more about the Trisco Systems process, click here to contact us for an informational meeting at our expense at the following or call 419-339-3906.
Source: National Park Services