The holiday season is here! During the holiday season, we tend to completely dismiss any goals we once had of being healthy or staying in shape. While you shouldn't let staying healthy prevent you from indulging in some of your favorite holiday treats or from having any fun, there are ways to still stay on top of your health and wellness during the holiday season. This season, make sure you stay happy AND healthy with these simple tips.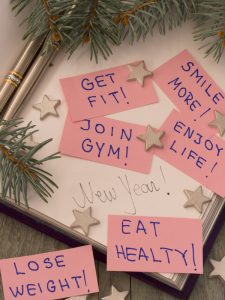 Eat well. Eating well is one of the most difficult things to do during the holidays. In fact, it seems that most holidays have become centered around food. Even with all of the good food in front of you, there are ways to eat a little healthier. You should definitely still indulge in your favorite holiday dishes, just make your portion sizes smaller and don't go back for that second plate. Aside from eating less, there are many easy substitutions you can make to make meals a little healthier. Look for recipes that include healthy swaps, look for lighter dips or sugar-free drinks. There are many small switches you can make to eat better during the holidays.
Stay active. Even though it can be a challenge, it is extremely important to stay active even when the weather makes you want to stay inside. Staying active is especially important around the holidays because of the food and drinks that come with the holiday season. Aside from going to the gym, there are plenty of easy and fun ways to stay active. Get outside with your family and go sledding, go ice skating, or build snowmen. There are plenty of options!
Prevent illness & injury. Unfortunately with the holiday season, comes cold and flu season. Make sure you take the time to prevent illnesses by washing your hands regularly and making sure family members do the same. It would also be beneficial to get flu shots before the season gets into full swing. When it comes to injury, being prepared for the snow and ice is the most important. To keep your sidewalks safe, you can sprinkle sand on icy patches, or invest in salt to sprinkle on them.
De-stress. Even though they aren't supposed to be, the holidays can be pretty stressful what with planning for the parties, preparing food for the parties, and all of the holiday shopping. The best way to prevent the holiday stress is come up with a plan. Organize ahead of time by making grocery lists of exactly what you will need for the holiday parties. Buy as much as you can in advance. When it comes to holiday shopping, set a budget for yourself and make sure you have most of the items that you want to buy beforehand. Again, doing the shopping as far ahead in advance as you can will save you some major stress.
Treat yourself. Amidst all of the holiday hustle and bustle, don't forget to have some fun and remember to treat yourself. Even though the holiday season is about helping and giving to others, make sure you also make time for yourself. Treating yourself to some down time will also help get rid of some of your stress and make you better able to prepare for all that the holidays have in store.
There are many simple ways to make your holidays happier and healthier. Remembering to take a few small steps to stay on top of your health and wellness during the holidays will make all the difference.