Every potential restoration project begins with a need: clients have a building or structure with a problem, so they call an expert such as Trisco and thereby initiate the building assessment process. When executed successfully, this process can identify problems or deficiencies, the cause of these problems, and the design of a solution. The building assessment is one of the most important aspects of every project, and it must be taken seriously and approached methodically.
Unlike some other trades such as carpeting or painting, building façade issues are much more complicated to understand. Estimating a carpeting project – for example – requires the same steps each time: measure the room and apply a material and labor price. Sometimes the contractor can measure it, give you a quote, and be back in the truck in a matter of minutes. With building façade issues, there is no "one size fits all" approach. In fact, two identical buildings on opposite sides of the street can behave in completely different ways and have entirely different needs. Therefore, a quality repair proposal can take hours and is costly to prepare. With this in mind, it is important to consider the major differences between a free estimate and a thorough professional consulting arrangement.
The process
When undertaking a project which addresses a complex façade or envelope issue, the client should expect a process like the one described below. It may be slightly altered to fit the particular project, but these are the general steps which lead to a strong partnership and effective action plan.
The initial client contact and report of an issue
The initial meeting and general review of the project and what will be required to diagnose the issues
If needed, follow-up site visits to thoroughly evaluate the structure
The development and presentation of a report describing the assessment
The determination of the contracting method and negotiation process
Onsite visits
After the initial contact, a meeting should be held onsite.  Some projects require only one visit, while others may take several. Depending on the contractor-consultant, the first visit is usually at no cost unless there is significant travel or ancillary costs. The second visit is more likely to require a fee, depending on what needs to be accomplished as determined during the first visit.
The first visit is typically a general introduction and information gathering meeting; both to the client and to their situation. This usually includes walking the building with the client, making a sketch and taking notes, capturing photographs, and gathering general information such as record documents from the original construction or from previous projects.
If the problem can't be solved in this visit, it becomes a reconnaissance mission for a second visit, considering some of these factors:

Do sections of the veneer or cladding need to be dismantled and/or removed to perform subsurface exploration? If so, in what locations?
Are there locations that need close-up inspection? If so, how can they be reached? Does it require machinery or suspended scaffold?
Will the inspections impact the occupants of the building? If so, how? What should be done in preparation for the next visit?
Do the inspections require utilities such as water or electric? If so, are they available and where?
Does a third-party need to partake in the secondary investigation?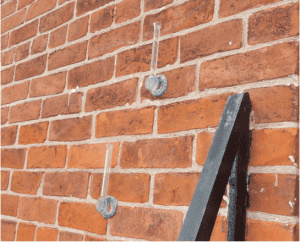 The follow-up visits usually include a much closer and thorough inspection of the focus areas outlined during the initial visit. They may include taking extensive notes and photographs, use of binoculars, and aerial access via suspended scaffold or aerial platforms. Subsurface investigations make take place, such as dismantling or removing sections of the building to verify the original construction installation details. There might also be testing for moisture absorption, areas of leakage, and failing components. This is when all of the information and evidence is captured so that the problem can be solved and a solution designed.

Presentation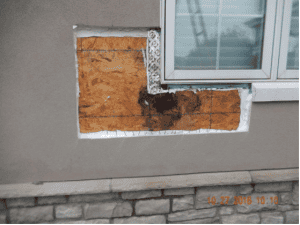 After the onsite investigations are complete, a solution is designed which is the start of determining a scope of work. The solution and proposal should be included in a thorough report which follows industry standard formats. Though a formal presentation is not always required, it is highly recommended because several questions are likely to arise. It is best for the contractor-consultant to answer such questions directly to reduce the potential for confusion or a miscommunication of the true intent.
Contract method & contractor selection
Lastly, the client must decide how to proceed with the project. This includes factoring what arrangement is best for each party.  The most straightforward projects go right into the  design/build process whereby the contractor-consultant performs the work. However, given many outside factors, sometimes a neutral third-party is required. In this scenario, the more traditional owner-contractor-engineer agreement is preferable.
It is very important to consider how to select the contractor. Depending on funding sources, a public bidding process may be required. This usually forfeits the client with the luxury of choosing the preferred contractor. In other scenarios, a contractor evaluation process can be implemented. This process is outlined more descriptively in another article; however it should take into consideration many factors beyond scope and price. 
This guide should be used as a starting point for how to tackle your building repair needs. Be sure to ask your contractor-consultant the right questions, be sure they understand your needs, and always check their experience. For guidance or to learn how Trisco can help with specifying your project, call 419-339-3906 or email office@triscosystems.com.