Our Restore You Wellness Team recently held an event where employees were asked to bring a healthy snack to work and share the recipe. It had to be something home-made. The response was great, and we all enjoyed trying each other's dishes. It's funny – I was literally eating powdered mini-donuts in my office when I realized we had healthy snacks in the kitchen. I guess that means this was a good idea! Now, we want to share the recipes with you.
1. Cheesy Quinoa Bites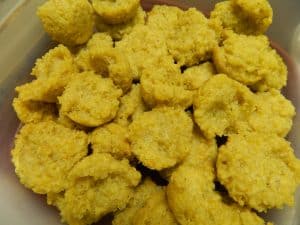 Original author: Laura Fuentes
Serves: 12-15 bites
INGREDIENTS
1 ½ cups cooked Bob's Red Mill Quinoa
1 cup grated monterrey jack or mozzarella cheese
¼ cup grated parmesan cheese
1 teaspoon Italian seasoning
½ teaspoon garlic powder
¼ teaspoon salt
1 large egg, whisked
DIRECTIONS
1. Preheat the oven to 400°F and grease or spray a mini muffin pan.
2. In a large bowl, combine cooked quinoa, grated cheese, and grated parmesan cheese.
3. Add seasonings and combine.
4. Add the whisked egg and using a fork, mix well until all ingredients are incorporated.
5. Transfer quinoa mixture into the muffin tin pan and bake for 15-18 minutes until the tops are golden brown. Remove from oven and allow bites to cool down before removing and serving with marinara sauce for dipping.
2. Frozen Yogurt Bark with Berries
INGREDIENTS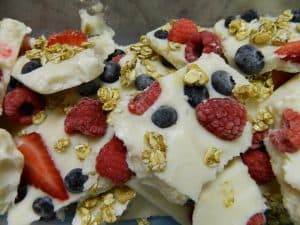 2 cups nonfat plain yogurt
1/4 cup agave (honey or maple syrup are also OK)
1/2 teaspoon pure vanilla extract
1/4 teaspoon fresh lemon juice
pinch salt
strawberries, sliced
blueberries
raspberries
chopped pecans, for garnish
DIRECTIONS
1. Line a baking sheet with wax paper and set aside.
2. In a large mixing bowl combine yogurt, agave, vanilla, lemon juice, and salt; whisk until thoroughly combined.
3. Transfer yogurt mixture to previously prepared baking sheet and spread it around to an even thickness.
4. Top with berries.
5. Garnish with nuts (optional)
6. Freeze for 2 to 3 hours, or until firm.
7. Cut into pieces and serve. Keep in the freezer.
3. Reduced Fat Apple Dip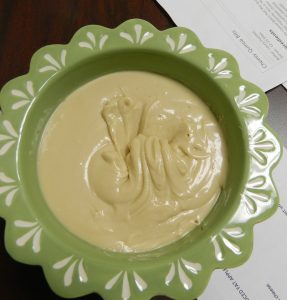 INGREDIENTS
1 8 oz. package of low fat cream cheese
1/4 cup brown sugar
1 tablespoon vanilla extract
DIRECTIONS
Stir together the cream cheese, brown sugar, and vanilla until smooth. Dip apples and enjoy!
4. Texas Sheet Cake
INGREDIENTS
Cooking spray
2 teaspoons all-purpose flour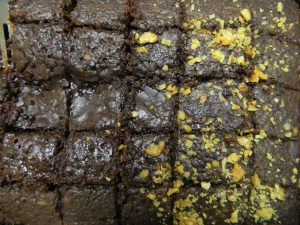 2 cups all-purpose flour
2 cups granulated sugar
1 teaspoon baking soda
1 teaspoon ground cinnamon
1/4 teaspoon salt
3/4 cup water
1/2 cup butter
1/2 cup unsweetened cocoa, divided
1/2 cup low-fat buttermilk
1 tablespoon vanilla extract, divided
2 large eggs
6 tablespoons butter
1/3 cup fat-free milk
3 cups powdered sugar
1/4 cup chopped pecans, toasted
DIRECTIONS
1. Preheat oven to 375°F
2. Coat a 13 x 9-inch pan with cooking spray, and dust with 2 teaspoons flour.
3. Lightly spoon 2 cups flour into dry measuring cups; level with a knife. Combine 2 cups flour and next 4 ingredients (through salt) in a large bowl, stirring well with a whisk.
4. Combine 3/4 cup water, 1/2 cup butter, and 1/4 cup cocoa in a small saucepan; bring to a boil, stirring frequently.
5. Add cocoa mixture to flour mixture. Beat at medium speed with an electric mixer until well blended.
6. Add buttermilk, 1 teaspoon vanilla, and eggs; beat well.
7. Pour batter into the prepared pan. Bake at 375° for 22 minutes or until a wooden pick inserted in center comes out clean. Place on a wire rack.
8. Combine 6 tablespoons butter, fat-free milk, and remaining 1/4 cup cocoa in a saucepan; bring to a boil, stirring constantly. Remove from heat.
9. Gradually stir in powdered sugar and remaining 2 teaspoons vanilla. Spread over hot cake. Sprinkle cake with pecans. Cool completely on wire rack.
5. "No Tuna" Salad Wraps
INGREDIENTS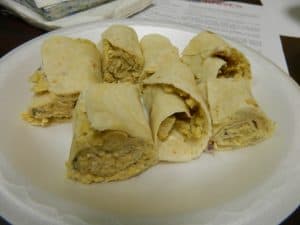 1 (15-ounce) can chickpeas, rinsed and drained
3 tablespoons tahini
1 teaspoon Dijon or spicy brown mustard
1 tablespoon maple syrup or agave nectar
¼ cup diced red onion
¼ cup diced celery (or water chesnuts)
¼ cup diced pickle
1 teaspoon capers, drained and loosely chopped
Healthy pinch each sea salt and black pepper
1 tablespoon roasted unsalted sunflower seeds (optional)
Whole-wheat wraps
DIRECTIONS
1.Place the chickpeas in a mixing bowl and mash with a fork, leaving only a few beans whole.
2. Add tahini, mustard, maple syrup, red onion, celery, pickle, capers, salt and pepper, and sunflower seeds (if using) to mixing bowl. Mix to incorporate. Taste and adjust seasonings as needed.
4. Scoop a healthy amount of the chickpea mixture (about ½ cup) onto one slice of bread or a wrap. Add desired toppings.
Note: Mixture will keep covered in refrigerator for 4-5 days, making it great for quick, weekday lunches.
6.  Crockpot Italian Meatball Soup 
INGREDIENTS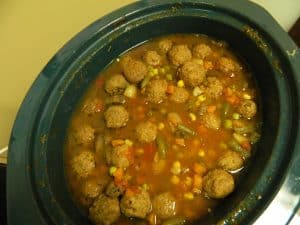 1 pound frozen low-fat turkey meatballs
4 cups low-sodium beef broth
2 cans (14-15 ounces each) diced tomatoes
1-1/2 cups sliced mushrooms (about 5 ounces)
1 cup peeled chopped potato
1/2 cup chopped onion
1 teaspoon Italian seasoning
1/2 teaspoon garlic powder
1/2 teaspoon salt
1/4 teaspoon pepper
1 package (16 ounces) frozen mixed vegetables
Freshly grated Parmesan cheese for serving (optional)
DIRECTIONS
1. In a slow cooker, stir together the meatballs, broth, tomatoes, mushrooms, potato, onion, Italian seasoning, garlic powder, salt and pepper.
2. Cover and cook on LOW for 6 to 8 hours, until the vegetables are tender.
3. Turn the slow cooker to HIGH and add the frozen mixed vegetables.
4. Cover and cook for one additional hour, or until the vegetables are tender. Taste and add more salt and pepper to taste.
5. Sprinkle with freshly grated Parmesan cheese if desired.
7. Homemade Zucchini and Carrot Bars
INGREDIENTS
1 cup grated zucchini
½ cup grated carrot
2 shallots finely chopped
3 eggs, lightly whisked
⅓ cup of grated cheese
2 tbs finely chopped parsley*optional
1 tbs almond flour (or all purpose flour)
Olive oil
INSTRUCTIONS
1. Heat a little olive oil in a medium saucepan over medium heat. A tablespoon is enough.
2. Add the zucchini, carrot, and shallots, and cook, stirring, for 4-5 minutes or until the vegetables soften.
3. Remove from heat and set aside to cool for a few minutes.
4. Combine the vegetables with the eggs, cheese, parsley (*optional) and flour in a large bowl and mix all the ingredients well.
5. Put the mixture into a baking square pan (lightly spread some butter or ghee before) and smooth the surface.
6. Bake in oven for about 12 minutes or until set. Remove from oven and set aside to cool. Take them out of the pan cutting into bars.