One type of structure that needs to be frequently maintained are concrete stadiums.  These stadiums are often found at high schools, colleges, and professional arenas, and they all experience similar stresses that require constant attention.
Stadiums are constructed with poured-in-place reinforced concrete or pre-cast concrete planks and all typically have large expansion joints extending the full height of the deck surface. There are many items affixed to the concrete such as bleachers which are often bolted into the risers with steel stanchions, guardrails which are either poured into the concrete or bolted to it, and conduit which can run within or on top of the concrete. Most stadiums also have press boxes which are either masonry or stud framed and clad with vinyl siding or EIFS. All of these features can impact the lifespan of a stadium if not properly maintained.
When searching for any indications of stress on a stadium, there are several things to look for.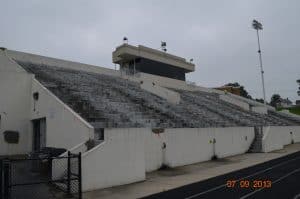 Expansion and Control Joints: There are multiple joint design details used for expansion and control joints throughout the stadium.  Some joints are a simple backer rod with sealant.  Others are high performance joints which are installed for expansion control.  These joints typically include an expandable gland, edge nosing, sealant, and cover plate.  These joints are common sources of leaks in stadiums and require consistent maintenance.
Conduits & Pipe Penetrations: These types of penetrations that have been poured into the concrete create a potential for moisture intrusion. Likewise, as these items corrode, oxide jacking can damage the concrete. Though intended as a conduit for electrical or wiring, they can also act as a conduit for water. For example, a leak that develops at a light fixture might travel down through the conduit into the stadium and show up at unwanted locations.
Railings & Bleacher Stanchions: These items can be bolted to the concrete or embedded in the concrete.  It is very important to inspect around these items, as they can permit moisture intrusion which leads to concrete deterioration.  
Pedestrian Membrane: Most stadiums will have a protective membrane coating system on them. Abrasive contact eventually wears down the surface. As the surface wears down and loses its weatherproofing characteristics, moisture can begin saturating and penetrating the concrete.  It is important to inspect the coating and make isolated repairs as problems develop.
Concrete Deterioration: Concrete failures include stress fractures and delamination or spalling of the concrete due rusted reinforcing.  Having the structure professionally inspected and choosing the most appropriate repair procedures will greatly increase the longevity and usefulness of the stadium. Be sure to look for fractures and spalls on both the top side and the underside of the stadium. It is important to consider the life-safety issues related to falling concrete or tripping hazards.
Press Boxes: Press boxes can be built integrally with the stadium, or built atop the stadium. Due to their simple design and intent for minimal use, details are often overlooked which can lead to leaks which result in concrete deterioration. Often times the roof has speakers, light fixtures, and other items attached to it. There is usually an abundance of windows which can allow moisture to enter and permeate through the wall system. In any event, have a critical eye and don't underestimate the ability of weather to take its toll on this small but important portion of the stadium.
Trisco Systems, Inc. has successfully performed restoration and maintenance projects on stadiums.  If you would like more information on concrete restoration and protection, visit us at http://triscosystems.com/concrete-restoration-protection/.